Library Release 2018
To request an allocation, visit the Members page.
By Santiago Achaval, winemaker....
This past harvest, we've been pampering ourselves. There! It's out! Now everybody knows! One of the advantages of having made wine for several vintages (nine now) is that we get access to older wines. And so, a typical evening of a 2018 harvest day for the The Farm Winery Gang, after all the muscle pulling labor was done, has been to open a bottle or two of an oldie. We've opened back to 2009! We've enjoyed and relaxed with 2010s while the steak was grilling (very short enjoyment: we like our meat rare). We've contemplated the '11s over soft cheese. We've been challenged by the 13's and marveled how lamb becomes sublime with a great Cabernet.
So we decided to share by offering our first-ever Library Release!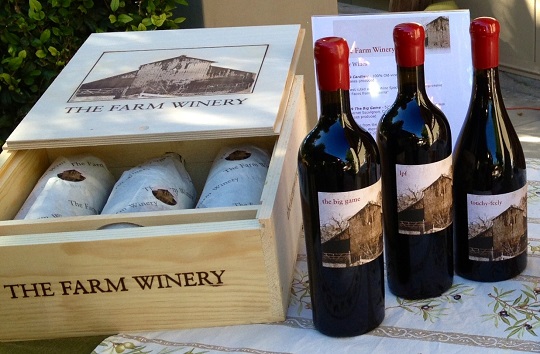 The wines have aged for 7+ years at cellar temperature:
- The Big Game 2010 (Wine Advocate, 92+ points)
- Touchy Feely 2011 (James Suckling, 92 points)
- Cardinal 2013 (Vinous, 94 points)
The wines come shipped in a wooden box and are ready for the holidays!
To request an allocation, visit the Members page.
And it's my job to taste the wines and tell you what I think about them….. I know, it's a tough job….
2010 The Big Game
As you all know, our The Big Game wine is an eclectic blend. Bordeaux varieties and Rhone varieties mixing in a game of equilibriums and balances. A mix that is illegal in France creates complexities that amaze in California.
Going back to old tasting notes (which is something I've never done before…), I find a repetitive theme for The Big Game: that it's "all about the merging and melding and melting of different angles and points of view". At release, many times it has happened that one of the varieties was dominant. But now, seven years after it was harvested and almost five after being bottled, 2010 The Big Game has achieved the cherished goal of complete and utter balance.
A nose that mesmerizes with its depth. No note out of tune! Haunting complexity. Intensity of fruit interlaced with freshness and both savory and mineral notes. In the palate a texture of velvet built both by super-polished tannins and a density of fruit that has grown immensely. In the back of the mouth a memory of both fruit and tannin that keeps you going back to the glass. High class…..
I immediately asked for two cases for my personal cellar (I kid you not, I can quote witnesses!). In my book a wine that clearly has climbed into the "classic" portion of the 100 point scale. Which by the way, is not a one hundred point scale, but a fifty point scale that starts in 50…… But I disgress! You know I don't like to mention scores because of the personal nature of the relationship between a Member and our wines….
2011 Touchy-Feely
Touchy-Feely is a Grenache wine tempered and held upright by an embrace of Syrah. 3/4ths Grenache make it a Southern Rhone, Chateauneuf du Pape wine with a California cleanliness to it. Grenache gives it a playful side. Syrah holds it down to earth.
And time has shown that our 2011's (a cold and long vintage) were not ugly ducklings! They are actual beautiful swans….. This metaphor is even more apropos in the case of 2011 Touchy-Feely: the wine is pervaded by silk as texture. That youthful Grenache has metamorphosed into a poised Lady, full of grace. It keeps the fresh and lively mouthfeel with notes of red fruits. But the real joy is the physical sensation of these fruits in the silk corset that caresses the palate. And the mineral notes that make you want to drink more.
There's enough tension in the wine to forecast a very long life to it. But lately I've been thinking….. I'm 56! Touchy Feely has achieved such a level of charm and sheer pleasure that I'm going to be diving into my 2011 bottles with much higher frequency than I planned to before this tasting!
2013 Cardinal
Cardinal, king of vineyards, prince of wines. I'm in awe of this 53-year old vineyard since the first moment I saw it in April 2009. Maybe because of the vineyard itself. Maybe because after walking it for an hour, I made a forecast that has come to be true: "This vineyard will make a true terroir-driven Cabernet Sauvignon. And it will be our best wine."
This is both the youngest wine of the Library release, and the one that should have the longest life. So it is comparatively younger than the other two. People have been arguing about terroir since forever. And my guess is that they will keep at it for a long time. So here are our two cents: A wine that is expressive of its place is a wine that you can't imagine could have been grown anywhere else. Cardinal is that kind of wine. Every year, it has unique flavors that are its own, and nobody else's.
Strangely enough, Cardinal's expression is more a fruit one than a mineral one. Because when you think of terroir you normally think of a mineral framework. In the case of Cardinal, the 50-year old Old Bailey Vineyard gives us a purity of fruit that is almost laser-like in the tightness its focus. Red and dark fruits with notes of blueberries that, if they were light, could travel to the stars. I don't distinguish nose and palate because they're the same thing. Same continuity without a hiatus. In the mouth, velvet is the texture that amplifies the fruit flavors into a huge mid-palate. Tannin is just a secondary accent that allows our Cardinal fruit to ride slowly into the sunset.
To request an allocation, visit the Members page.