Epic tasting: The Judgment of Paso wines
In a hushed Paso Robles hotel conference room this spring, eight sommeliers sat at a long, white, linen-covered table, where eight glasses of red wine awaited -- and local winemakers, somms and wine enthusiasts watched.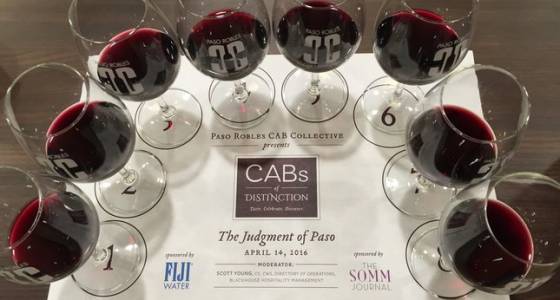 You've heard of the famous Judgment of Paris? Forty years ago, this monumental blind tasting rocked the wine world when unknown -- and unappreciated -- California wines beat the best French wines. To honor the big anniversary, the Paso Robles CAB Collective created its own version, pitting Paso Robles wines against top-tier Napa Valley cabs and Bordeaux blends.
Welcome to the Judgment of Paso. No one in the room -- including the eight sommeliers -- knew anything about the wines in the glasses. They had no clues about vintage, grape variety, producer or price point. Half of the somms had never even been to Paso Robles before. And very few of them had Paso wines on their restaurant or wine bar lists.
They swirled, they sniffed, they sipped and they spit. And let's just say their minds, or palates, were blown.
We won't bore you with their analysis of each wine, we'll just get to the results. The eight wines included two Bordeaux, three Napa and three Paso reds, all from the 2012 vintage and with prices ranging from $65 to $175. Just one was pegged unanimously as Paso: the 2013 Daou Vineyards' Soul of a Lion ($150), a cabernet sauvignon blend.
The biggest surprise came from wine No. 3. The somms -- and most of the audience, which also had the chance to taste -- thought this was a Paso cabernet, but it was a $175 Napa Continuum Estate Proprietary Red Bordeaux-style blend, made by Tim Mondavi.
And the best wine, many attendees -- including myself -- agreed was another Paso entry, the $65 Farm Winery LPF Adelaida District cabernet.
The bottom line: The somms agreed that Paso wines are just as good as Napa and Bordeaux wines but offer a better value. You can bet they are adding Paso bottles to their wine lists now.
-- Mary Orlin, Staff, San Jose Mercury-News, June 2016