Cardinal
We walked into this vineyard. Bud break had barely started. There were only a few tiny green leaves on each Cabernet plant. You could tell that the vineyard was on the cusp of death or life. Some vines were no longer pushing buds. Still there, but only as a monument of past glories. The whole vineyard gives off an impression, a vibration, an energy level that only great vineyards do. Santiago turned around and told Jim, "This place is our reason to make wine in Paso."
After that, we were never surprised by the greatness of the fruit and the wines. Continually amazed, but never surprised. There are vineyards which take their time to reveal who they are, but this vineyard's greatness was immediately apparent. Of all the Paso wines we've tasted, this is the place where we find more purity, more soil, more place, more bright Westside Paso.
Cardinal is very old-vine Cabernet Sauvignon of classic proportions. This is a wine beyond outstanding. This is a wine that goes beyond excellence, into character, interest and emotion.
Cardinal is our flagship, and a vintage must earn the right to the name. To date, Cardinal has been released for vintages 2009, 2010, 2012, 2013, 2015, 2016, 2017 and 2018.
Vintage 2018 winemaker's notes
238 cases produced. 100% Cabernet Sauvignon, Old Bailey Vineyard, planted in 1964.
The oldest surviving Cabernet vineyard in Paso Robles. Planted in 1964, most of the plants still surviving. Tiny, ridiculous tiny yields of half a ton of grapes per acre. Steep limestone hillsides. And the wine that most responds to the definition of "terroir": a wine that tastes like its place. One of the best Cardinals up to now, if not the best.
Classical laser purity in the nose, full of fruit, red and blue and black and more red. Mesmerizing palate of freshness that opens up in myriad impressions, a kaleidoscope of swirling fruit and flower and mineral impressions. It changes and turns and swerves, leaving delicate notes and touches that add up and add up to a powerful impression. It keeps fresh but warmth and welcoming creeps in to fill the soul.
It's so young and primal that my impulse is to stash it away for at least five more years. And is so unique and original that I'm going to skip the food pairing recommendation, and go with: drink Cardinal with somebody important to you.

Cardinal's origin is Paso's oldest surviving Cabernet vineyard. 58 year old vines yielding a scant one-half of one ton of grapes per acre.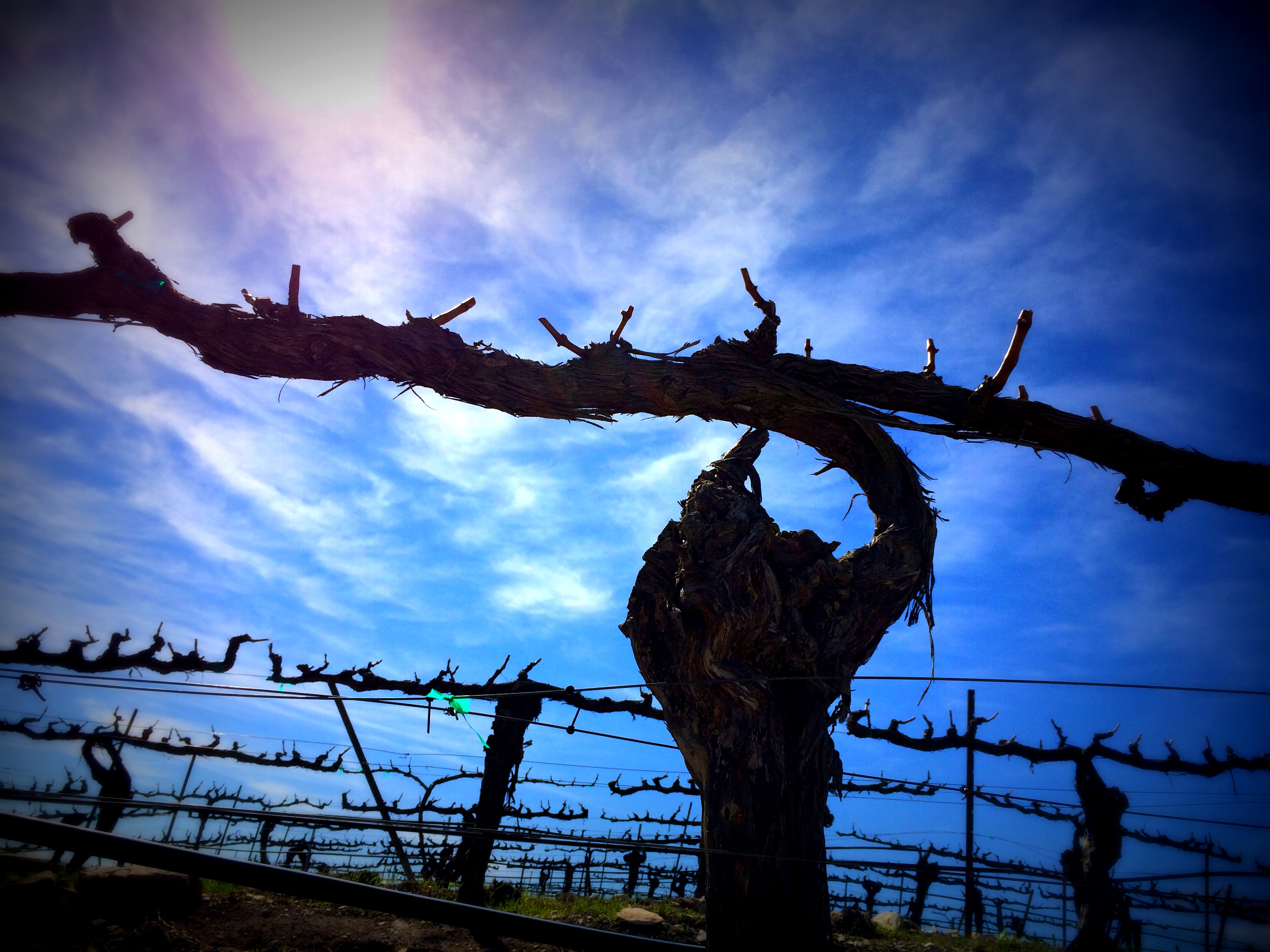 Vintage 2018 reviews
Inky ruby. Intensely perfumed cherry, cassis, floral and pipe tobacco aromoas take on baking spice, mocha and smoky mineral nuance with air. Sappy and penetrating on the palate, offering vibrant, finely detailed black currant, cherry liqueur, candied rose and vanilla flavors and a hint of dark chocolate. The spicy note recurs strongly on an impressively long, focused finish framed by polished, well-integrated tannis. Aged for 2+ years in new French oak barrels. Drink 2024 - 2034.
94 points; Vinous November 2021
With excruciatingly tiny yields (0.5 ton/acre), this is The Farm's flagship Cabernet Sauvignon and has been consistently impressive in our tastings over time. The nose and palate offers dark red berries, cassis, and exotic cooking spice. This is a refined, finely textured wine of excellent purity, extract and freshness. It's a superbly balanced, fruit driven wine that finishes long and fine.
94 points; International Wine Review July 2022
To request an allocation, visit the Members page.

Vintage 2017 winemaker's notes
137 cases produced. 100% Cabernet Sauvignon, Old Bailey Vineyard, planted in 1964.
When I have to describe the aromas of a glass of Cardinal, some similitudes and metaphors repeat, year after year. That is the signature of a wine with character, personality, a sense of geography, "terroir". The character of Cardinal's aroma is always, in first place, purity. Identity. Laser driven focus. Fascinating fresh fruit in red and blue tones.
The palate responds in an explosion of mirrored flavors. True correspondence that amplifies the sensation of freshness and purity and vibrancy. Backbone of subtle fine grained tannin, drawing an almost invisible corset that keeps everything tight. Tridimensional mouth filling flavors. Incredible length and persistence that owes its effect to subtle mineral notes.
A great Cardinal. Accidentally a Cab. But first and foremost a wine of place.
Vintage 2017 reviews
Saturated violet. Deep-pitched dark fruit liqueur, cherry-vanilla, mocha and pipe tobacco scents pick up an energizing cracked pepper flourish with air. Lush and densely packed, offering bitter cherry, cassis, vanilla and dark chocolate flavors that show excellent clarity and spicy back-end thrust. Round, gently chewy tannins add shape to a very long, appealingly sweet finish that echoes the cherry and spice notes. Drink 2024 - 2033.
94 points; Vinous December 2020
Dark ruby. Compared to the Old Union Cab, the Cardinal is less weighty but more focused with an excellent sense of refinement. Spicy dark red fruit runs throughout the wine with a silky mouth feel, outstanding balance, and a very long, extracted finish with The Farm's usual suave tannins.
94 points; International Wine Review April 2021
Vintage 2016 winemaker's notes
114 cases produced. 100% Cabernet Sauvignon, Old Bailey Vineyard, planted in 1964.
This year Cardinal is closer to its land. It is less a noble and more a peasant. It maintains character and adds a note of tanginess. A sensation of grip. Less laser-focus purity of fruit, more terroir. Less virginal aloofness, more down-to-earth welcome.
As every year since 2009, Old Bailey Vineyard gives us an expression that speaks more powerfully of place than of variety. That's why we don't blend other Cabernet vineyards into Cardinal.
In the nose, notes of blue share the stage with orange peel and minerality. In the mouth, refreshing acidity makes me salivate and wish for food. Breast of duck? Slow cooked pork…..!! Tannin and mineral tension take over, lengthening the wine almost into the sunset, like the end of old cowboy movies….Life goes on, we cannot live in dreamland……unless we go back to Cardinal.
Vintage 2016 reviews
Opaque ruby. The impressive array of ripe dark fruit and floral aromas is complicated by suggestions of candied licorice, pipe tobacco and exotic spices. Sweet and seamless in texture, offering palate-staining black currant and cherry preserve flavors and a hint of candied rose. Youthful chewy tannins fram an impressively long, juicy finish that leaves sappy dark berry and floral notes behind. Drink 2025 - 2035.
94 points; Vinous February 2020
A rich, flavorful cabernet with lots of currants and cooked berries. Toasted oak adds a toffee undertone. Full body, round and juicy tannins and a flavorful finish. Decadent and flavorful. Drink or hold.
93 points; James Suckling March 2020
"This is a very complex wine. The fruit is the star." Video link
Wine Weirdos October 2020
Vintage 2015 winemaker's notes
20 cases produced. 100% Cabernet Sauvignon, Old Bailey Vineyard
Cardinal is the true wine of place. Our flagship and the most terroir driven of our wines. We don't know if it's the age of the vines, or the superb limestone build of the soils. We'd like to know, but when a wine is so unique there is not a lot of science that can be done.
The nose is fantastic. A mixture of complex layers of fruit with an elevated note. Like the freshness of menthol without the medicinal component. Like the aliveness of eucalyptus without the green character. Penetrating. Uplifting. So attractive!
The palate is initially tight. So much that I'm a bit worried! (Strangely enough this is a signal of the potential longevity and great ageability of this vintage). But air works its magic and the wine unwinds slowly. It gains textures that are half way between velvet and silk. The aliveness and freshness of the nose continue in a dominance of red fruits. A seduction of purity. Immense focus. I know it's not American so say this, but I'd even go for "aristocracy". Please decant? Do not miss the slow opening of these flavors!
Vintage 2013 winemaker's notes
238 cases produced. Cabernet Sauvignon.
People have been arguing about terroir since forever. And my guess is that they will keep at it for a long time. So here are our two cents: A wine that is expressive of its place is a wine that you can't imagine could have been grown anywhere else. Cardinal is that kind of wine. Every year, it has unique flavors that are its own, and nobody else's.
Strangely enough, Cardinal's expression is more a fruit one than a mineral one. Because when you think of terroir you normally think of a mineral framework. In the case of Cardinal, the 50-year old Old Bailey Vineyard gives us a purity of fruit that is almost laser-like in the tightness its focus. Red and dark fruits with notes of blueberries that, if they were light, could travel to the stars. I don't distinguish nose and palate because they're the same thing. Same continuity without a hiatus. In the mouth, velvet is the texture that amplifies the fruit flavors into a huge mid-palate. Tannin is just a secondary accent that allows our Cardinal fruit to ride slowly into the sunset.
Vintage 2013 reviews
Youthful purple. Smoke- and spice-tinged black and blue fruit, pipe tobacco and woodsmoke scents, along with an exotic overtone of Indian spices. Palate-staining flavors of ripe cherry, black currant and spicecake are given structure by a spine of juicy acidity. Gains weight with air while retaining vivacity and finishes sweet and impressively long, displaying repeating spiciness and smooth, slow-building tannins. Drink 2021 - 2028.
94 points; Vinous November 2017
Deep garnet-purple in color, the 2013 Cardinal offers up perfumed, youthful black currants and blackberry notes with touches of violets, dried herbs, incense, cigar box and cinnamon stick. Medium-bodied and beautifully poised on the palate, it delivers intense black berry and spicy layers with a lovely line of ripe, finely grained tannins and wonderful freshness, finishing with excellent persistence. Drink 2017 - 2031.
93+ points; Wine Advocate September 2017
Paso strikes again; generous ripe plum and cassis fruit; supple, elegant and showing subtle toasted oak; stylish and very long.
93 points; Tasting Panel Magazine January-February 2017
The 100% Cabernet Sauvignon opaque ruby Cardinal offers rich dense flavors of blackberry, cassis, and plum. It has a lush mouth feel with terrific density of black and red fruit flavors and tremendous persistence on the palate. A beautifully balanced wine with perfect integration of oak, soft round tannins and a long finish. A gorgeous wine reflecting the unique Cabernet flavors of Paso Robles. Drink it over the next decade.
93 points; International Wine Review December 2016
Vintage 2012 winemaker's notes
270 cases produced. Cabernet Sauvignon.
I've written these tasting notes in one sitting. We've moved from one wine to the other, and we've been doing it as you would taste the wine at home: drinking, not spitting! And these wines are so expressive that they challenge the limits of my writing ability. But up to now, I've been able to keep up with the wines. Until I tasted 2012 Cardinal. And then I had to stop. There is so much going on in this wine that I don't know where to start. So I'll start where this wine does: in the vineyard. Cardinal speaks about its origin. Cardinal has the character of Old Bailey Vineyard, on Peachy Canyon Road, in the south-east corner of Paso's Adelaida District. A few acres planted 52 years ago and today, we believe, the oldest surviving Cabernet in Paso Robles. A vineyard that's one of the rare places that have the ability to impart character to both a wine and a winery!
When a wine expresses terroir like Cardinal does, the tasting notes have somehow to transmit that. It's not so important that the nose is deep and dense and redolent of ripe fruit, with overtones of vibrant freshness. It's important only that the nose is typical of Cardinal. It's not so important that the mouth reflects the ripeness of the fruit with interwoven backbone of minerality. It's important that the combination of flavors is the descriptor of Cardinal every year. And 2012 comes with the additional component of ample space. Space within the flavors is like silences between the notes of great music: silence allows the understanding of the notes. Space allows the understanding of the flavors. Of the personality. Of the character, of Old Bailey Vineyard. Of Cardinal. Forever.
Vintage 2012 reviews
Made by Santiago Achaval of Argentina's Achaval-Ferrer. Lush flavors of sweet plum, cherry and vanilla oak; elegant, refined and delicious with a long, lovely finish.
96 points; Tasting Panel Magazine December 2015
Dark purple. Explosive aromas of dark berry preserves, vanilla, incense and pipe tobacco, accompanied by a smoky overtone and intense minerality. Pliant and seamless on the palate, offering intense, palate-staining cassis and bitter cherry flavors that are energized by juicy acidity. Becomes weightier and sweeter with air, with no loss of vibrancy. Shows excellent power and focus on the relentless, spice-tinged finish, which features harmonious tannins and a touch of candied rose. Drink 2018 - 2025.
94 points; Vinous September 2016
Winemaker Santiago Achaval has made a fabulous 2012 Cabernet Sauvignon Cardinal, which is 100% varietal and spent two and a half years in new French oak. This medium to full-bodied, impeccably balanced beauty offers classic notes of crème de cassis, toasted bread, spice and dried flowers to go with ultra-fine tannin, beautiful purity and a great finish. It's not a heavyweight and stays light and elegant on the palate. It's a beauty to drink over the coming decade or more. Argentinean Santiago Achaval (of Achaval-Ferrer) is the driving force behind the wines of The Farm Winery, which was created in 2009. These are impressive wines that have classic, elegant characteristics that back it up with plenty of structure and concentration. I came away impressed and these are serious wines. Drink 2016 - 2031.
93 points; Wine Advocate August 2016
"The fruit is so explosive!" Video link
Wine Weirdos March 2016
Vintage 2010 reviews
Highest rated Cabernet from Paso, by both Stephen Tanzer and Wine Advocate.
Inky ruby. Blackberry liqueur, licorice, pipe tobacco and mocha on the highly perfumed nose. Plush, broad and deep but lively as well, offering sappy dark fruit flavors and notes of candied flowers and vanilla. Bright acidity adds focus and lift to an impressively long, smooth and subtly tannic finish that repeats the floral note.
93 points; Vinous November/December 2013
Even more Bordeaux-like and structured, with plenty of cedar, tobacco leaf, spice box, lead pencil shavings and red and black currant aromas and flavors, the 2010 Cardinal is comprised of 93% Cabernet Sauvignon and 7% Malbec that spent 27 months in new French oak. Rich and full-bodied on the palate, it fills the mouth nicely, yet dries out ever so slightly on the finish. Nevertheless, there's loads to like here and this concentrated effort should be given another 2-3 years of bottle age, at which point its evolution will be easier to figure out. Even in a worst case scenario, it should have a decade of longevity. Drink now-2020.
92+ points; Wine Advocate August 2013
Displays an opaque ruby color and aromas of black currant, cassis, dark chocolate and minerals. It is soft on the attack and focused with ripe red and black fruit flavors, polished tannins, and a velvet texture. It is a beautifully balanced wine, persistent on the finish and thoroughly enjoyable to drink. Sourced from the Old Bailey Vineyard with extremely low yields of 1.4 tons/acre and 13.8° alc.
93 points; Intermational Wine Review September 2013
Classic black fruit nose with currant and blackberry, herbs, carbon and purple florals. The palate is well-structured black fruit with a moderate acidity on the mid-palate, polished through the finish. Decant for 60 minutes for maximum near term enjoyment. Drink 2014 - 2020 .
93 points; purely domestic wine report September 201